This is the site of gourmets in Cuba.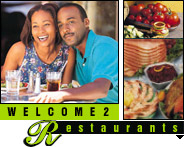 Here you will find the restaurant you are looking for, whether interested in a specialty (seafood, grills, Cuban or international food, buffet, etc) or a neighborhood (Vedado, Miramar, Old Havana, etc). If you are just hungry or you are eager to enjoy the most exquisite Cuban flavors, here you will find the best restaurants in Havana, including a summary on Cuban culinary culture.

Cuban culinary culture:

Traditional Cuban cuisine, also known as Creole cuisine, is the result of the mixture of the different cultures brought by the colonizers and immigrants during the history of the country. The main influences are the Spanish, the African, the Chinese, and to a lesser extent, the Amerindian. Know more...

The national dish is the "ajiaco criollo", a sort of stew containing pork and vegetables. Other typical dishes are the congri: black beans with rice; the tostones: fried punched thick slices of unripe bananas, and the tamal: crushed maize with chopped meat poured and boiled into the leaves of the corn. The most consumed meats are pork and chicken, which, to be given a particular flavor, are usually added citrus juice and garlic several hours before being cooked. Besides the habitual vegetables, in Cuba they grow several other of African origin such as cassava, sweet potato, and yam. One can also find a great deal of seafood and fish, including the famous lobster. The fruits are omnipresent depending on the season: banana, pineapple, orange, guava, and papaya, as well as excellent mangoes.
In the restaurant menus, you can find dishes from mostly all over the world, most of them elaborated with imported products. In Cuba, virtually every culinary culture is represented. It is not hard to find along the main cities, specialized restaurants offering dishes either from the Italian cuisine, the German one or other part of the world.